Sketches of a baroque city
The Residenz fountain, Mirabellgarten park, Mozart's birthplace and the large festival hall are some of the most famous sights in the UNESCO world heritage city of Salzburg. The Austrian graphic artist Oskar Pointecker has produced a number of artful sketches.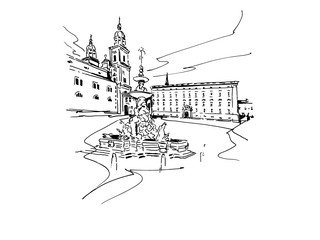 A magnificent baroque city
Salzburg is often referred to as a magnificent 'Rome of the North' and owes much of its current appearance to the visions of Prince Archbishop Wolf Dietrich zu Raitenau (1559 – 1617), who was responsible for committing his ideas to paper for the ideal design and layout of an Italianità-style city. To this day his five town squares – Residenzplatz, Domplatz, Mozartplatz, Kapitelplatz and Alter Markt – have remained the most beautiful squares in the whole city. The Residenzbrunnen is the largest baroque fountain in Central Europe, situated on the edge of Salzburg's DomQuartier, a part of town by the cathedral and all-embracing work of art that includes architecture, art and music. It's unique in the whole of Europe.
The Sound of Music
More than a billion people around the world know and love Salzburg because of the classic film musical 'The Sound of Music'. That's how many people have seen the world's most successful musical film made in 1965. The main characters are featured in singing and dancing roles - Julie Andrews as Baroness Maria von Trapp and Christopher Plummer as Baron Georg von Trapp. The film is still a key motive to visit the city of Salzburg for many tourists from the USA and Asia, who seize the chance to see many of the actual historical venues, as well as the original locations featured in the film, such as Mirabell park gardens.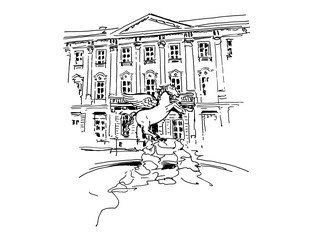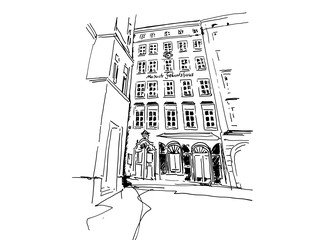 The famous city of Mozart
Wolfgang Amadeus Mozart (1756 – 1791) is Salzburg's best-known son and played an immense role in helping the city to world fame. The house in which he was born at Getreidegasse 9, and the family's later residential home on Makartplatz square, are two of the city's most frequently-visited sights. The International Mozarteum Foundation is above all dedicated to research work, and is known as the world's most highly-respected institution with the most profound knowledge of the life and works of W. A. Mozart. There are numerous concerts all year round, and in January the famous Mozart Week is held to mark the composer's birthday.
The glamourous festival city
Ever since 1920, the Salzburg Festival – founded by Max Reinhardt and Hugo von Hofmannsthal - has been held here every summer. It is one of the largest and most sophisticated classical music festivals in the world. Anna Netrebko, Cecilia Bartoli, Daniel Barenboim, Sir Simon Rattle, Sol Gabetta and Yo-Yo Ma are just some of the stars to appear on the stages around Salzburg at around 200 scheduled events. The Summer Festival is also complemented by the Easter Festival, established by Herbert von Karajan, and by the Whitsuntide Festival.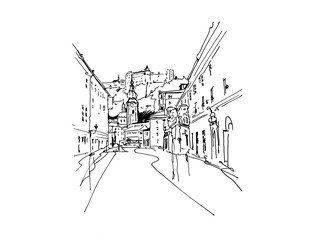 contact
Salzburg Congress
Auerspergstraße 6
5020 Salzburg
Phone +43 662 88987 0
---